Country Niche Players Dominate the Market Holding ~40% of Revenue Share Despite the Presence of ~200 Competitors including a Significant Number of Regional Players and Global Players, finds a recent market study on Global Pea Protein Market by Ken Research
Pea protein is a dietary product and protein supplement developed and extracted from yellow split peas, chickpeas, and lentils. It can be used as a food replacement or dietary supplement to boost a person's consumption of protein or other nutrients. Pea proteins are perfect for people choosing vegan diets because they are made from plant-based sources. Additionally, they have a wide range of applications in beverages, meat alternatives, dietary supplements, and bakery goods and are non-toxic, non-allergic, and easily digestible.
Ken Research shares 3 key insights on the competitive landscape of this dynamic market from its latest research study
Global Players Who Comprise 15% in Terms of the Number of Competitors Hold ~35% Market Revenue Share
Competitive Analysis by The Ken Research Study found that the Global Pea Protein Market is highly competitive with ~200 players which include globally diversified players, country-niche players as well as a large number of regional players having their own niche in pea protein development and execution. The country-niche players comprise just about ~50% in terms of the number of companies and control the largest share of market revenue, followed by regional players accounting for ~35% in terms of the number of companies.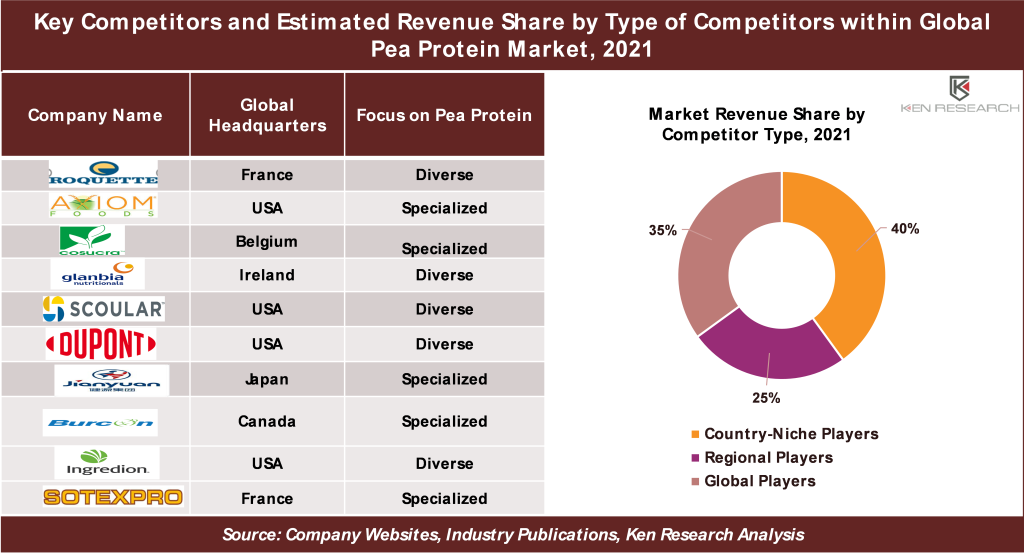 2. Leading Country-Niche Players Provide Pea Protein Solutions To A Variety Of Industries
Detailed comparative analysis of key competitors available within the Research Study shows that specialist players Axiom, Cosucra, and Burcon are highly focused on providing a significant number of Pea Protein products that can be used across Meat Substitutes, Dietary Supplement, and Beverages. Furthermore, several companies and organizations are heavily investing in R&D to provide users with Protein products.
Request for Sample report @ https://www.kenresearch.com/sample-report.php?Frmdetails=NTk2MDM5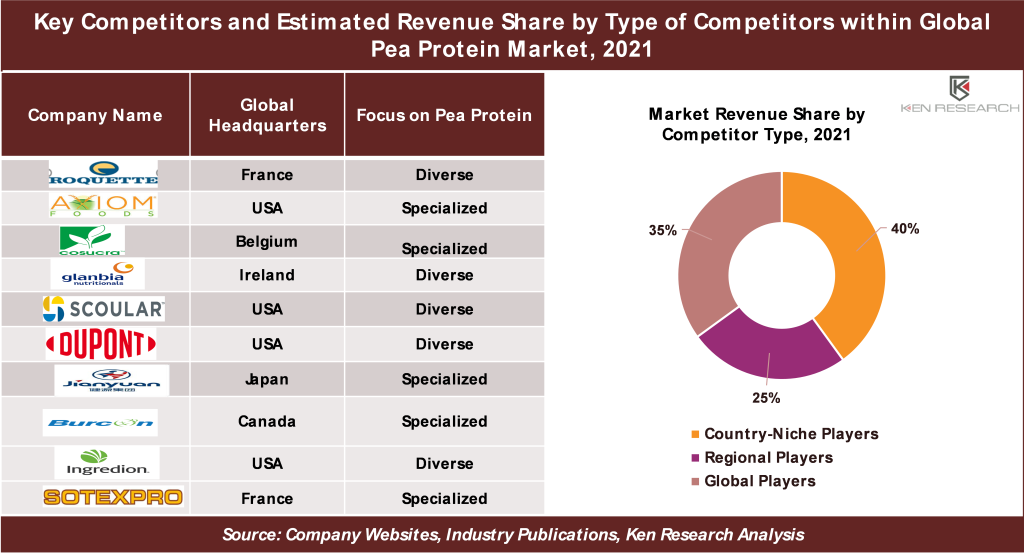 3. The Growing Need for Pea Protein Has Led to Major Industry-Wide Developments, Acquisitions, Partnerships, and Expansion.
The federal government of Canada, in January 2020, invested US$9.5 million in a new Protein Industries Canada supercluster project to commercialize highly soluble, highly functional pea and canola protein isolates.
In September 2021, Roquette Fréres established a brand-new center of expertise in France. By concentrating just on plant protein, this center will broaden the range of opportunities in terms of food innovation, the discovery of novel proteins, and new manufacturing techniques.
In April 2022, Cargill, American Food Corporation, is growing RadiPure pea protein throughout the Middle East, Turkey, Africa (META), and India as more people seek out plant-based meals. This approach will allow local food and beverage producers to respond to shifting market trends.
For more information on the research report, refer to the below link:
Global Pea Protein Market Size, Segments, Outlook, and Revenue Forecast 2022-2028: Ken Research
Follow Us
LinkedIn | Instagram | Facebook | Twitter
Contact Us: –
Ken Research
Ankur Gupta, Head Marketing & Communications
+91-9015378249